Mobile Phones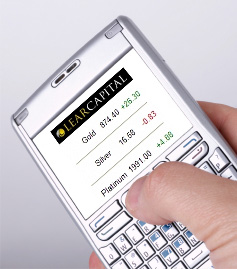 Please use the link www.learcapital.com/mobile on your mobile phone for instant access to real time pricing.
A sample view is included on the right...
For instant price notifications by email, click here.
**The statements made in this website are opinions and past performance is no indication of future performance or returns. Precious metals, like all investments, carry risk. Precious metals and coins may appreciate, depreciate, or stay the same depending on a variety of factors. LCI cannot guarantee, and makes no representation, that any metals purchased will appreciate at all or appreciate sufficiently to make customers a profit. The decision to purchase or sell precious metals, and which precious metals to purchase or sell, are the customer's decision alone, and purchases and sales should be made subject to the customer's own research, prudence and judgment.