The Gold and Silver Polar Bear coins are .9999 Pure and provide tangible asset protection and critical portfolio diversification. A product of the Royal Canadian Mint, both coins are guaranteed for purity and weight and are IRA eligible. The Gold Polar is the newest investment-grade release with a radiant, parallel line finish akin to the celebrated Gold Canadian Maple Leaf. The Silver Polar Bear is a stunning over-sized 1.5 oz coin.
Obverse
Features the image of Queen Elizabeth II struck in dazzling detail and designed by internationally acclaimed Canadian Portrait artist Susanna Blunt.
Reverse
Depicts the majestic polar bear traversing the frozen tundra on its solitary journey across the great North American Glacier.
An Exclusive Investment-Grade Coin Pairing from LEAR CAPITAL!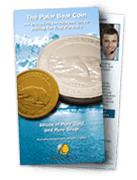 Acquire the distinctive and uncirculated Gold and Silver Polar Bear coins to help...
Protect your Nest Egg
Diversify your Portfolio
Secure your Future from US Debt
Receive our FREE E-Book instantly!
Get the Booklet NOW!