Buy Palladium
Buy Palladium - A Metal for the God's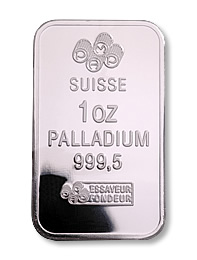 Named after the asteroid, Pallas, the Greek goddess of wisdom, palladium is a precious metal with a very practical modern-day application: It is a vertiable sponge for pollution. It may, in fact, be the world's greatest pollution sponge. It's estimated that palladium can absorb some 900 times its weight in harmful gases, making palladium superior to even platinum for use in catalytic converters. And it is automobiles that use most of the palladium produced today -- some 60 percent of it is taken up with this application alone.
A Demand Driven by Environmental Concerns
Demand for the metal only appears to be on the rise. Discovered in 1803 by a man named, Wollaston, palladium is found with platinum and other metals of this group predominently in the former Soviet Union, The Russians produce over two-thirds of the world's supply, and have not been shy about exerting an OPEC-like control over the metal. The versatility of this precious metal is evident in the wide variety of industrial uses. Palladium is also used in jewelry, dentistry, watchmaking, and in producing electrical contacts and surgical instruments. It's also a critical part of hydrogen peroxide, which is displacing poisonous chlorine in many industrial processes, thus providing investors of this precious metal two ways to buy palladium. Although there are a number of dealers of precious metals around the globe, investors will find that there are only a few who deal in palladium due to the relatively high cost of this precious metal. Investors should exercise caution when they buy this precious metal from private individuals. Dealing with a licensed agency is important as the integrity of the transaction is maintained, and will ensure that the palladium you buy is graded and safely encapsulated in order to maintain the high value of the investment.
About Investing in Palladium Bullion
Palladium is a rare precious metal, and is frequently associated with other precious metals like platinum, gold, and silver. The rarity of this precious metal coupled with its irreplaceable industrial usefulness is increasing the demand of palladium. More and more investors are examining the different ways they can invest in palladium as a tangible asset due to the diversity it brings to the investment portfolio as well as the bullion value of this precious metal. Paper assets such as currency, stocks, and bonds are intangible – in that, the value of the papers is what is based on the value of its listed shares multiplied by its price per share on the stock index. Palladium, on the other hand, carries an intrinsic bullion value based on its many uses. Palladium is valuable not only as a rare precious metal, but also because of its versatility and its trade price.
In a weak economy, potential buyers will maintain an interest to buy precious metals which is why investors of precious metal store their wealth in bullion or coins. Investors of this precious metal can also benefit from the high spot price which allows the investors to earn more from a small amount of physical precious metal.
Palladium is a lesser known investment than compared to gold or platinum making it easy to benefit from both short and long term profit from this precious metal. For information on palladium and to know more about investing in palladium, get in touch with Lear Capital today.
**The statements made in this website are opinions and past performance is no indication of future performance or returns. Precious metals, like all investments, carry risk. Precious metals and coins may appreciate, depreciate, or stay the same depending on a variety of factors. LCI cannot guarantee, and makes no representation, that any metals purchased will appreciate at all or appreciate sufficiently to make customers a profit. The decision to purchase or sell precious metals, and which precious metals to purchase or sell, are the customer's decision alone, and purchases and sales should be made subject to the customer's own research, prudence and judgment.