Market Watch: Companies and Insiders are Dumping Stock, While Share Repurchases Sink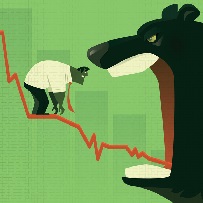 Article by Tomi Kilgore in Wall Street Journal market Watch
The stock market has a supply and demand problem, with corporate share sales surging to a 4 1/2-year high at the same time corporate buying has dropped.
"New offerings skyrocketed in September, suggesting U.S. companies are trying to take advantage of lofty market average before there is a more dramatic slowdown in the equity markets or the economy," TrimTabs said in a research report to clients.
The report comes as the Dow Jones Industrial Average rose in mid-September to within a fraction of its record close reached in July, before pulling back through month end. On Wednesday, the Dow tumbled 494 points, or 1.9%, after slumping 344 points on Tuesday on the heels of data showing a second-straight month of contraction in the manufacturing sector.
Corporate executives were also big sellers, as insiders unloaded $14.2 billion worth of their companies' stock last month through Sept. 26, according to a TrimTabs analysis of Form 4 filings with the Securities and Exchange Commission. That's the highest of any September in the past 10 years.
September also marked the sixth month this year that insider selling has topped $10 billion, which is already the most months to cross above that 8-figure threshold in a year since 2006, TrimTabs said.
To read this article in Market Watch in its entirety, click here.