ETF Daily: Jim Cramer Thinks Gold is Going to $1,500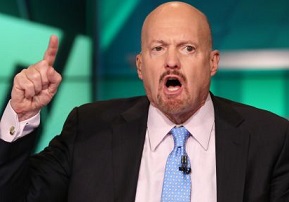 Article by Anna Golubova in ETF Daily
As gold prices wrapped up another great session and hit fresh eight-month highs, Mad Money's Jim Cramer said that he is a gold "believer."
"We are big gold believers here. Now gold is at $1,300, we think gold is going to $1,400-$1,500. We suggest that everybody have a little bit of gold in their portfolio," Cramer said on Wednesday.
The big news of the day was the Federal Reserve keeping rates unchanged at a range between 2.25% and 2.50%.
Cramer pointed out that the Fed Chair Jerome Powell did the right thing by focusing on "patience" when it comes to future rate hikes.
"Don't listen to the Fed watchers who claim that Powell caved to the stock market or the president," Cramer said. "The only thing Powell caved to is reality … This is about the economy — who doesn't want a healthy economy? If Powell had stuck to his plan for a series of lockstep rate hikes, it would've been a lot more devastation to Main Street than to Wall Street."
Cramer said he likes gold better than silver, but added that silver is also likely to go up.
"Silver's trading up with gold. I prefer gold. My recommendation is to buy, but silver's going higher," he said.
April Comex gold futures were last trading at $1,323.10, up 0.58% on the day, while March Comex silver was last at $16.04, up 0.71% on the day.
To read this article in ETF Daily in its entirety, click here.