Wall Street Journal: Treasury Expects to Issue over $1 Trillion in Debt in 2018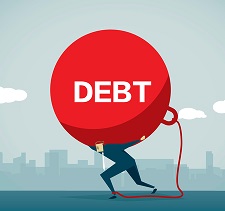 Article by Kate Davidson in Wall Street Journal
WASHINGTON—The U.S. Treasury Department estimates it will issue more than $1 trillion in debt this year as higher government spending and sluggish tax revenues push the deficit higher.
The Treasury said Monday it expects net marketable debt to total $425 billion in the fourth quarter, which would bring total debt issuance in 2018 to $1.338 trillion, compared with $546 billion in 2017.
That would be the highest annual debt issuance since $1.586 trillion in 2010, when the U.S. economy was still crawling out of a recession.
The Treasury's fourth-quarter borrowing estimate of $425 billion is $15 billion less than it estimated in July. That would be the most for any fourth quarter since 2008, at the height of the financial crisis, though the figures can be volatile from quarter to quarter.
Rising federal budget deficits are boosting the Treasury's borrowing and could restrain economic growth as the cost of credit also rises.
The Treasury said earlier this month the deficit grew 17% in the fiscal year that ended Sept. 30, amid higher spending and sluggish tax receipts, which a senior Treasury official attributed to changes from the tax overhaul enacted late last year.
The deficit is headed toward $1 trillion in the current fiscal year, the White House and Congressional Budget Office said. The Office of Management and Budget projects the government is likely to run trillion-dollar deficits for the next four years.
The higher debt issuance comes as the Federal Reserve has been raising short-term interest rates following an extended period of near-zero rates in the years since the financial crisis. Fed officials lifted their benchmark federal-funds rate to a range between 2% and 2.25% in September, and have penciled in one more rate increase this year, likely in December.
President Trump has criticized Fed Chairman Jerome Powell for raising rates, saying he is making it more costly to finance the debt and could slow down the economy.
"Every time we do something, he raises rates. Now, what does that do? That means we pay more on debt, right? That means we pay more on debt and we slow down the economy, both bad things," Mr. Trump said in an interview with The Wall Street Journal.
Treasury estimates show the government is very far from paying down debt, with the government issuing more than twice as much debt this year than it did last year.
To read this article in Wall Street Journal's website, click here.