Investing: Gold is Back in Play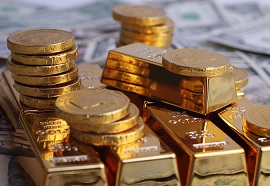 Article by Stephen Innes in Investing.com
As we mentioned last week, Gold should at minimum be on everyone's radar if not in everyone portfolio. After the break of the psychological $1350, Gold is reclaiming its rightful status as a must-have asset in everyone's investment portfolio.
Indeed, what a difference a fortnight makes. From a vocal chorus of indifference and reliant on central bank demand to Friday's fear of missing out momentum which propelled prices to a new 2019 high.
Gold climbed to the highest levels in more than a year. But adding to Golds allure is that prices traded well despite rebounding equities and a firmer USD. And while the prospect of lower U.S. rates and dovish Fed expectations remain supportive, Gold appeal goes well beyond that and is moving higher on its own accord as a safe and inexpensive hedge against the abundance of tail risks rapidly wagging.
The G20 summit will be significant for risk assets and while we don't know if tariffs will escalate from here, but we do know there's a substantial risk that they will. And while we remain unsure how the Fed will react this week, but we do know that if tariffs escalate, it will be a potent threat to U.S. growth and so the likelihood of an aggressive Fed cut will also rise. Gold represents insurance against those risks. If you live in tornado alley you would be crazy not to buy home insurance so with a category five recessionary storms brewing; it only makes sense to purchase Gold as portfolio insurance.
To read this article in investing.com in its entirety, click here.