Market Watch: Bond King Jeffrey Gundlach Bets on Gold and Rings Alarm Bell on Potential U.S. Recession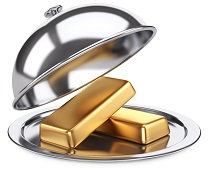 Article by Barbara Kollmeyer in Wall Street Journal Market Watch
Havens in, tech stocks out may be the theme for Friday.
Investors seem eager to insure themselves against geopolitical tensions that have flared up in the Middle East and Hong Kong this week, with gold vaulting on Friday. Meanwhile, U.S. technology stocks might not win any popularity contests as a red flag cropped up over how the trade war is biting that industry.
Trade tensions are also one reason DoubleLine Capital Chief Executive Officer Jeffrey Gundlach now sees a bigger chance of a recession hitting U.S. shores in the not-too-distant future.
Gundlach predicted a 40% to 50% chance of a U.S. recession within the next six months and a 65% chance of that happening in the next 12 months, in a webcast to clients late Thursday.
No doubt, the calls for the Federal Reserve to head off a downturn are growing louder by the day. Gundlach is not expecting an interest-rate cut when the Fed meets next week. Instead, he notes the bond market is tipping two or three cuts by the end of the year.
As for where Gundlach is putting his money, he said he is "certainly long gold," given expectations the dollar, which stands to take a hit if the Fed lowers interest rates, will close the year weaker.
To read this article and view the related chart in Market Watch in its entirety, click here.