Markets Insider: Investors Are 'Sleepwalking' into Market Turmoil and a Recession Early Next Year, Top Economist Steve Hanke Warns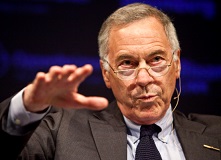 Article by Theron Mohamed in Markets Insider
Investors are too complacent and risk being blindsided by an economic slump early next year, Steve Hanke has warned.
"We're sleepwalking into turbulence in the market," the professor of applied economics at Johns Hopkins told Stansberry Research in a recent interview. "We're basically sleepwalking into a recession."
Hanke cautioned investors against buying into ......
To read this article in Markets Insider in its entirety, click here.