Market watch: Dow, S&P 500 on Track for Worst Start to a Quarter Since 2008 Financial Crisis as Recession Fears Accelerate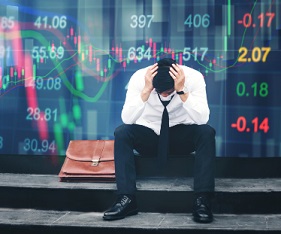 Article by Mark DeCambre in Wall Street Journal Market Watch
U.S. equity markets on Tuesday were in a two-day tailspin that threatens to push the benchmark indexes to one of the worst starts to a quarter since the 2008-09 financial crisis.
The Dow Jones Industrial Average was down more than 500 points, or 2%, at 26,050, with a two-session skid of about 3%, representing the worst start to a quarter since the last three months of 2008, when the Dow slumped 19.4% in the fourth quarter, according to Dow Jones Market Data.
Already considered an unusually volatile period for the stock market, which has logged historically ugly October declines in 1929, 1987 and 2008, worries about geopolitics and growing signs of domestic and international economic weakness have fueled bearish bets and sent stock-market optimists, at least momentarily, scurrying for cover in assets perceived as safe.
The 10-year Treasury yield was down 5 basis points to 1.59%, while gold futures were surging 1.1%, retaking a bullish perch for the haven asset at $1,500 an ounce.
Meanwhile, the broader market also was on track for its worst start to a quarter, with trading in the first two sessions in October putting the S&P 500 index on pace to fall at least 2.9% to start the quarter, which would represent its worst such start since a 5.49% skid in fourth quarter of 2009.
To read this article in Market Watch in its entirety, click here.