Help Us Tell Their Living Histories!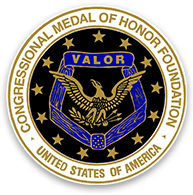 We need your support to help perpetuate the Medal of Honor's legacy through educational outreach to promote American values and the qualities of courage, sacrifice and patriotism!
"Any nation that does not honor its heroes will not long endure."

- President Abraham Lincoln
Congressional Medal of Honor Foundation
The Congressional Medal of Honor is the highest military award bestowed by the United States for valor in combat. First approved by President Abraham Lincoln for members of the Naval Service during the Civil War, it was made a permanent award by Congress in 1863.
THE FOUNDATION: Courage, Sacrifice, Service and the Next Generation
The Congressional Medal of Honor Foundation is dedicated to supporting the Medal of Honor and its recipients. We are also called to educate the next generation about the meaning of the Medal and the exemplary values of courage, sacrifice, selfless service, and patriotism.
Join with us in supporting the Congressional Medal of Honor Foundation!
The statements made on this website are opinions and past performance is no indication of future performance or returns. Precious metals, like all investments, carry risk. Precious metals and coins may appreciate, depreciate, or stay the same depending on a variety of factors. Lear Capital, Inc. cannot guarantee, and makes no representation, that any metals purchased will appreciate at all or appreciate sufficiently to make customers a profit. The decision to purchase or sell precious metals, and which precious metals to purchase or sell, are the customer's decision alone, and purchases and sales should be made subject to the customer's own research, prudence and judgment.