A product of the Royal Canadian Mint and exclusive to Lear Capital in the United States, the 1.5oz Silver Arctic Fox coin is government guaranteed for .9999 purity and is IRA eligible. This investment-grade, semi-numismatic coin can provide tangible asset protection and critical portfolio diversification.
Obverse
Features the image of Queen Elizabeth II struck in dazzling detail and designed by internationally acclaimed Canadian artist Maurice Gervais.
Reverse
Always curious and clever, the noble Arctic fox is a prolific hunter in his natural habitat presented in a silver avant-garde design.
An Exclusive Investment-Grade Coin Pairing from LEAR CAPITAL!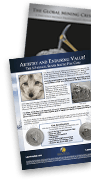 Acquire the distinctive and uncirculated Silver Arctic Fox coin to help:
Protect your Nest Egg
Diversify your Portfolio
Secure your Future from US Debt
Receive 2 FREE E-BOOKS Instantly!
Get Your Booklets NOW!