Get Started: Open or Rollover a Precious Metals IRA Account
The Lear Capital Precious Metals IRA is backed by gold or silver, a real asset that has risen over 400% in value over the past decade. A Gold or Silver IRA from Lear Capital may reduce the volatility of your retirement portfolio. It is smart, safe, and positioned for growth!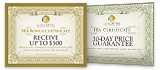 Open or Rollover a Lear Capital Precious Metals IRA with peace of mind thanks to our 2 exclusive offers. With the 30-Day Price Guarantee*, if the price of your metals drops within 30-days of opening your account, Lear Capital will adjust the value of your IRA to the market. With the $500 Bonus*, Lear Capital will pay up to $500 when you open a new IRA. Complete the form below to get started.
*Offers cannot be combined. Qualifying IRA accounts are eligible. Restrictions apply. Ask your account representative for details.