Lear Capital Active Incentives Keep Updated
Lear Capital offers incentives for new and existing customers. Please call a Lear Representative to find out how to take advantage of them today at: 1-800-576-9355
DON'T FORGET ...
5 Reasons to invest in Physical Gold or Silver in 2019 ...
To add protection against the world financial crises
To provide a hedge against soaring global debt
To include critical, physical assets in your retirement portfolio
Because we're offering you some extra commodities CASH
Because Lear makes gold and silver simple to buy and easy to sell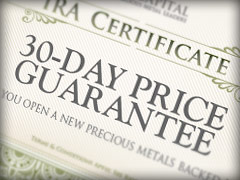 30-Day Price Guarantee Certificate
Receive a 30-Day Price Guarantee Certificate when you open or transfer a portion of your IRA into a new Lear Capital Gold- or Silver-Backed IRA.
If the price of your metals drops within 30-days of opening your account, Lear Capital will adjust the value of your IRA to the market. Restrictions apply. Not all IRAs are eligible. Contact your Lear Representative to review your retirement plan specifications and options. *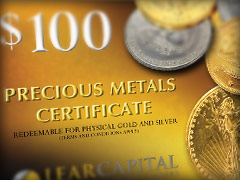 Calling All Premium Coin Investors
Lear Capital is offering a $100 Precious Metals Certificate!
Valid for new Lear customers making a premium precious metals purchase of $5,000 or more. $100 will be applied as a credit against your subsequent purchase. *
* Please call a Lear Representative for details and to take advantage of these special incentives at: 1-800-576-9355
The statements made on this website are opinions and past performance is no indication of future performance or returns. Precious metals, like all investments, carry risk. Precious metals and coins may appreciate, depreciate, or stay the same depending on a variety of factors. Lear Capital, Inc. cannot guarantee, and makes no representation, that any metals purchased will appreciate at all or appreciate sufficiently to make customers a profit. The decision to purchase or sell precious metals, and which precious metals to purchase or sell, are the customer's decision alone, and purchases and sales should be made subject to the customer's own research, prudence and judgment.