Money Week: Want to Make Money in 2020? Gold and Silver are Looking Like a Good Bet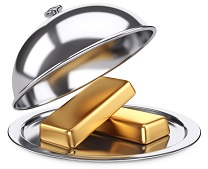 Article by Dominic Frisby in Money Week
I ran into Jim Mellon at a party at the weekend, and we soon got talking about markets. One of his comments – stated with surety and simplicity – has stuck in my mind. "Investing in 2020 is going to be easy," he said. "All you need to do is own gold and silver." He said it like it was a no-brainer.
And in many ways, it is a no-brainer. Investing can be as simple or as complicated as you want to make it. But the bottom line is this: find a bull market and go long. That really is all you need to do.
All the signs are that precious metals are in a bull market
I'm going to let you in on a little secret here. The 144-day simple moving average (144DMA). During the last bull market of the 2000s, it worked like a dream. Lord knows why, but you could set your clock by it. All gold's corrections in that ongoing bull market seemed to stop at the 144DMA, especially during that period from 2009 to 2011.
Lord knows why it works. The extraordinary power of Fibonacci numbers maybe. But it's an extremely useful tool in a gold bull market it seems. And, like Jim Mellon, it's saying "be long". Nor is this a US dollar thing. Gold is rising against all currencies, and is close to all-time highs against most of them.
Ross Norman, meanwhile, has proved the LBMA's (London Bullion Market Association) number one forecaster over the last 22 years, proving even more reliable than the 144DMA. He pinged me an email with his forecasts for the gold and silver price in 2020. "2019 was the year we learned that central banks are locked into QE-forever," he said. He has a point. The Fed's recent actions coming to the rescue of the 'repo' market, which had ground to a halt back in September, and lending money directly, was QE (quantitative easing) by a different name.
To read this fascenating article in Money Week in full and view the relating charts, click here.