Video
Lear Price Advantage
Lear Capital offers competitive pricing on gold and silver and complete purchase transparency. Lear has a three-step Price Advantage Guarantee that includes: a Written Account Agreement, a Phone Confirmation, and a Written Confirmation of your precious metals purchase. Lear's promise of transparency includes no hidden fees and a clear and fully disclosed gold and silver acquisition process. Lear Capital gives every customer an assigned Account Representative to answer any questions on acquiring precious metals to protect your retirement and savings.
More Videos
The Gold Recall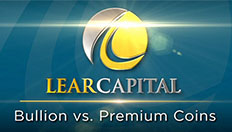 Bullion vs. Premium Coins
More Videos
The statements made on this website are opinions and past performance is no indication of future performance or returns. Precious metals, like all investments, carry risk. Precious metals and coins may appreciate, depreciate, or stay the same depending on a variety of factors. Lear Capital, Inc. cannot guarantee, and makes no representation, that any metals purchased will appreciate at all or appreciate sufficiently to make customers a profit. The decision to purchase or sell precious metals, and which precious metals to purchase or sell, are the customer's decision alone, and purchases and sales should be made subject to the customer's own research, prudence and judgment.