The Hill - 2021: The Year the Debt Chickens Might Come Home to Roost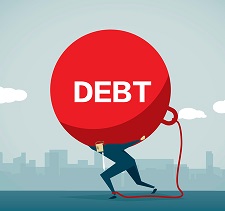 Article by Desmond Lachman in The Hill
On Wall Street it is said that the market consensus view on the economic outlook generally proves to be wrong. Judging by the overwhelming market consensus that we will see a continued V-shape recovery from the pandemic-induced economic crisis, it would seem that 2021 will again provide support for the Wall Street adage.
That's because markets will have underestimated the serious risks to both the U.S. and world economic outlook from a dark COVID-19 winter and from the massive debt buildup during the pandemic.
To say that markets are optimistic about the U.S. and world economic outlook would be a gross understatement. Indeed, as measured by the Shiller Cyclically Adjusted Price Earnings ratio, today's U.S. stock market valuations are at lofty heights last seen in the run up to the 1929 stock market crash. Meanwhile, those in Europe are not far behind.
In Europe, where COVID-19 restrictions have already been significantly tightened, another leg down in the European economy is now officially being forecast. With more than 1 million new US COVID-19 cases a week currently being reported, there is good reason to fear that, contrary to the market's expectations, in the early part of next year we could have another leg down in the U.S. economy.
The more serious challenge to the U.S. and global economic recovery next year is likely to come from increased difficulties in dealing with the global explosion in government, household and corporate debt that was occasioned by the pandemic. This would seem to be all the more the case considering how pervasive these debt problems are likely to be across many parts of the global economy.
Even before the COVID-19 crisis, Janet Yellen sounded the alarm about the unhealthy debt build up in the $1.5 trillion highly leveraged loan market. After the further household and corporate debt buildup to stay afloat during the pandemic, Ed Altman, the New York University bankruptcy expert, is now warning about an imminent U.S. corporate debt default wave in the months ahead.
Of even greater concern for the world economic outlook has been the ....
To read this article in The Hill in its entirety, click here.