CNN Business: The 2021 Stock Market Looks an Awful Lot Like 2000. That's Bad News for Big Tech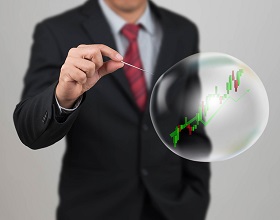 Article by Paul R. La Monica in CNN Business
The recent pullback in tech stocks followed a spectacular surge at the start of the year. That should have longtime market observers worried about the similarities between now and the height of the dot-com bubble in 2000.
For all those Millennial Robinhood traders who were just kids 20 years ago and are relative newbies to the market, the recent volatility should serve as a lesson. For all the times that people say that "this time is different" that's usually a telltale sign that it actually isn't.
The rise of meme stocks like GameStop, the flurry of initial public offerings and special purpose acquisition company mergers as well as the stunning runs in Tesla and bitcoin are nothing more than another case of the forces of market speculation running amok.
Investors are buying companies with significant challenges and ignoring the weak fundamentals. GameStop isn't the only "meme" stock out there. Movie theater chain AMC, clothing retailer Express and headphone maker Koss have been soaring.
There are numerous other echoes to the tech craziness of the late 1990s.
According to data from FactSet, the S&P 500 is currently trading at more than 21 times earnings estimates for the next 12 months. That's above the five-year average of just under 18 and the 10-year average of nearly 16.
It's also approaching the peak March 2000 levels of 24 times earnings estimates. In other words, the market is priced for perfection.
That's problematic. If (or when) the most bubbilicious stocks finally start to pull back, the sell-off can last a long time and the damage could be severe.
After all, when the Nasdaq first topped the 5,000 level in March 2000, it did so after surging past the 3,000 and 4,000 levels just a few months earlier. It was a mania. But once the dot-com bubble burst, the Nasdaq did not .....
To read this article in CNN Business in its entirety, click here.