Reuters: Debt Bubbles could Burst as Economies Slow, Threatening Stability, Bankers Warn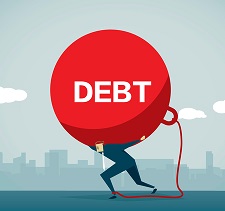 Article by Virginia Furness in Reuters
Heavy reliance on debt financing and slow economic growth are leading to the creation of debt bubbles which risk destabilizing the entire financial system should a major shock occur, bond bankers and investors warned at a conference on Thursday.
They were in Stockholm for the annual meeting of the International Capital Markets Association, an industry body.
Speakers on the first day warned about an unsustainable build up of debt and that liquidity would dry up in certain asset classes in stress scenarios — although they did not expect that to happen any time soon.
Affordability is not an issue while rates remain low but a rise in borrowing costs could create major problems, Axa's Stoter said: "The question is, with the debt level where it is, can central banks ever afford to let interest rates go back up because it will lead to a major bankruptcy wave."
To read this article in Reuters in its entirety, click here.