The Wall Street Journal: U.S. Retail Bankruptcies, Store Closures Hit Record in First Half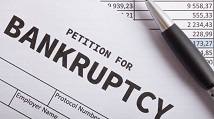 Article by Aisha Al-Muslim in The Wall Street Journal
Retail bankruptcies, liquidations and store closings in the U.S. reached records in the first half of 2020 as the Covid-19 pandemic accelerated industry changes, particularly the shift to online shopping, according to a report.
In the first six months, 18 retailers filed for chapter 11 protection, mostly concentrated in apparel and footwear, home furnishings, grocery and department stores, according to the report by professional-services firm BDO USA LLP. They include department-store operators Neiman Marcus Group Ltd., J.C. Penney Co. and Stage Stores Inc., home-goods retailers Pier 1 Imports Inc. and Tuesday Morning Corp. and vitamin seller GNC Holdings Inc.
From July through mid-August, 11 more retailers filed.
"This is almost certainly the worst year in recent history for retail," said Kyle Sturgeon, a managing partner at Atlanta-based turnaround advisory firm Meru LLC.
This year is on pace to rival the 48 total bankruptcy filings by retailers in 2010, following the 2007-09 recession. Retail bankruptcies in 2020 have already surpassed the 22 total filings in 2019.
Government-mandated store closures and social-distancing measures have intensified challenges that were facing bricks-and-mortar retailers before the pandemic, according to BDO.
"I don't think it's going to stop anytime soon," said Andy Graiser, co-president of commercial real-estate advisory firm A&G Real Estate Partners, who advises Tailored Brands, Ascena, Neiman Marcus and Stein Mart, among others.
High rates of bricks-and-mortar store closures are expected to continue, BDO said. From January through mid-August, retailers had announced they would close a total of more than ...
To read this article in The Wall Street Journal in its entirety, click here.