Bloomberg News: U.S. Bankruptcy Surge is Worst Since the Great Financial Crisis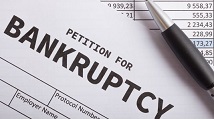 Article by James Crombie in Bloomberg News
More U.S. companies have sought bankruptcy protection during the last two days than in the prior two weeks combined, data compiled by Bloomberg show. The seven filings since Sunday exceeds the month's five through June 13, which was relatively light for companies seeking shelter from creditors. The Chapter 11 spree was a mix of consumer names like 24 Hour Fitness Worldwide Inc. and Pyxus Internatio

This week's filings pushed the year's bankruptcy total to 111, the most since 2009 for the first six months of a year, data compiled by Bloomberg show.
Filings from the consumer cyclical sector total 32 year-to-date, the most for any comparable period since 2009, when there were 41. Consumer non-cyclical filings total 26 -- also highest since 2009 -- and the sector remains under pressure from lockdowns that have crushed demand.
Intervention by the Federal Reserve injected liquidity that lifted credit across the board. But Bloomberg Intelligence analyst Phil Brendel says corrections are common in highly-volatile distressed cycles and points to an easing in April 2008, which didn't last.
"Unprecedented cash burn and unemployment will drive distressed supply to new highs," Brendel wrote in a June 2 analysis.
To read this article in Bloomberg News in its entirety, click here.