Investing - Gold: Banks Are Frontrunning The Next Move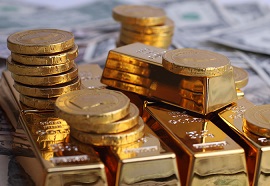 Article by Andrew Lane in Investing.com
If you are a precious metals investor, you will no doubt have seen recent headlines of central banks across the world repatriating their gold, and in the case of some countries, buying up gold like its running out (we'll come back to that) The repatriation even went legal in some instances.

Hungary has been in the news after they tripled their gold reserves, and have used "long term strategy" as their reasoning. They stated that Covid has brought about additional perils and gold is a way of safeguarding as it carries no counterparty risk. The World Gold Council released a report that countries were net buyers yet again in February with India leading the way with just over 11 tons. Russia has averaged buying over 200 tons of gold per year for the last seven years. China owns stacks of it, and has increased countless tons over the years. China potentially has more than twice the US maybe even more. These are not small numbers. So why the rush into gold in the last few years?

Well, I have written several articles on the upcoming Basel III rules and what it means for world debt and banks. We know that the NSFR comes into effect across Europe (with the UK having a six month extension due to the LBMA's endless complaints (we all know why of course with their mass of unallocated gold from June 28, 2021, and the USA from July 1, 2021. We know under these new rules that the BIS is classifying gold as the same as cash and bonds. We know that unallocated gold will be incredibly expensive to trade (Read LMBA complaints again) and we know that banks will get audited prior to the deadline to prove their allocated gold. We also know that 95% or thereabouts of gold traded is paper, and never delivered at month end.

So what about world debt? Well the latest predictions take it to over 300% of world GDP. The US is at 130% of their GDP.
Throughout the years, Gold has always tracked the debt levels and historically had sat between 20-40 debt ratio. At the lower levels that would put gold right now at just over $6000 per oz.
So why isn't it? Well as frustrated investors, we know that the gold price has been managed for years of course, because historically a high gold price reflects badly on the economy, and no government wants that headline published. Basel III and NSFR may turn this dynamic on its head, however.
When gold hit its low of 1678 and reversed higher, the long contracts outweighed the shorts by 3.4 x. In light of how gold will be traded in Q3 and beyond, have the banks started to unwind their dubious short positions at this low? It certainly looks that way.

For years and years gold has played a part as money. It is the only currency that is traded that won't be debased vs fiat. What Wall Street tends to ......
To read this article in Investing.com in its entirety, click here.