New York Times - DealBook Briefing: Can You See That Bear Market Coming?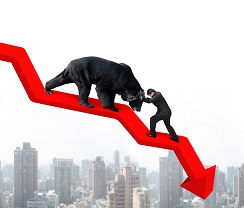 Article by Justin Lane in New York Times
Stocks tumbled yet again on Thursday, taking the continuing sell-off to new depths.
The Nasdaq is now almost in a bear market. The tech-heavy index fell 1.6 percent yesterday, pushing it 19.5 percent below its late-August peak. (A fall of 20 percent puts it in bear territory.) The S&P 500 fell 1.6 percent, and is down more than 15 percent from its peak.
What they're saying. "There's just a constant selling pressure," Paul Hickey, a founder of Bespoke Investment Group, a financial market research firm in Harrison, N.Y., told the NYT. "It's just any excuse is an excuse to sell."
And there's a long list of excuses to pick from. Here are several worth singling out: New U.S.-China tensions after a fresh batch of hacking indictments (more on that below); a malaise over the Fed's rate increases; technology stocks falling out of favor; the threat of a government shutdown; and the persistent slump in oil prices.
This upheaval is "of a magnitude on par with the two biggest market crashes of the past four decades," according to Bloomberg. Nearly two-fifths of equities on the Nasdaq and the New York Stock Exchange are at 52-week lows, it reports. The proportion was higher only during the Black Monday crash of 1987 and in the wake of the 2008 financial crisis.
There's little hope in sight. Asian markets followed U.S. markets down in trading today, and futures markets suggest Wall Street could open lower again.
To read this article in New York Times, click here.