Voice of America: Biden to Propose $6 Trillion in 2022 Budget Spending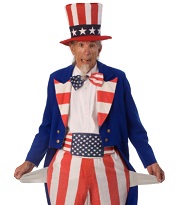 Article by Rob Garver in Voice of America
President Joe Biden on Friday will ask Congress for the authority to spend nearly $6 trillion in 2022, which would give him the resources to begin implementing an ambitious agenda of infrastructure investment and expanded social programs. However, the blueprint would also increase federal spending to a nearly unprecedented share of the U.S. economy and drive the national debt to new highs.
The budget request will forecast continued increases in federal spending over the next decade, eventually rising to $8.2 trillion in 2031, according to The New York Times.
Much of the new spending would be paid for with proposed tax increases on the wealthy and on corporations. However, the administration projects that the federal government will still run deficits of more than $1.3 trillion per year over the coming decade.
The budget will reflect a sharp divergence from the priorities of former President Donald Trump's administration, which sought major cuts in many government agencies shortly after Trump took office.
Next year's budget beginning October 1, will be free of spending caps.
Critics note that those programs would entail further government spending that would have to be paid for by tax increases, more deficit spending or reduced spending elsewhere.
Approaching WWII spending levels
The extraordinary efforts by the government to blunt the economic impact of the coronavirus pandemic in 2020 temporarily drove government spending as a percentage of economic output to the highest level since World War II.
While the Biden budget will gradually reduce government spending as a share of the economy from the current highs, it still anticipates spending well above average levels for the past 70 years.
Soaring national debt
The total federal debt held by the public was already in excess of 100% of GDP when the pandemic struck, and the combination of lower output and even more borrowing drove it higher.
"That's a big debt number," said Marc Goldwein, senior vice president and senior policy director for the Committee for a Responsible Federal Budget. "Prior to the Great Recession, debt was 40% of GDP. Prior to the pandemic, it was 80%. This year, it started the year at 100%, and 106% is our World War II record — 117% just blows past that. That's a lot more borrowing."
He pointed out that .....,.
To read this article in Voice of America in its entirety, click here.