The Washington Examiner: The Biden-Pelosi-Schumer Deficits are a Catastrophe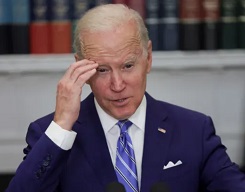 Article by Quin Hillyer in The Washington Examiner
While the Biden administration brags that it "cut" the federal government's annual deficit in half in the fiscal year 2022, the reality is that the $1.4 trillion deficit is not a triumph but a travesty.
The "decline" in the deficit reported on Oct. 11 comes despite, not because of, any of Joe Biden's actions as president. And the remaining deficit's size remains gargantuan and grotesque.
The only reason the deficit "declined" in the past year is that it had been artificially (and astronomically) expanded in the two prior years because of coronavirus-relief funds.
The truth is that Biden and congressional Democrats have hiked substantially, not cut, the federal spending "baseline," the amount of .......
To read this article in The Washington Examiner in its entirety, click here.