The Wall Street Journal: Biden's First Spending Blowout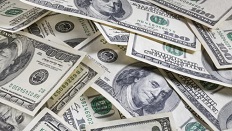 Article by The Wall Street Journal Editorial Board
Those two Georgia Senate races were more expensive than even we thought. "With interest rates at historic lows, we can not afford inaction," President-elect Joe Biden declared Thursday night. He wasn't kidding as he outlined a $1.9 trillion Covid spending plan, which comes on top of the $900 billion Congress appropriated last month, and the $2.9 trillion in the spring. And this is only Mr. Biden's "first installment," as Sen. Bernie Sanders put it.
The first point to understand is that this blowout has nothing to do with economic stimulus. Nearly all of the money is for income redistribution—some to people in genuine need, but most to advance long-term Democratic social policies, and to massage constituencies like teachers unions and state politicians.
More government spending will only help the economy to the extent it ends the pandemic faster and helps people get back to work. Toward that end Mr. Biden proposes $70 billion for vaccines, therapies and testing in addition to the $42 billion that Congress passed last month.
Most of the rest of the Biden plan is a repeat of the 2009 Obama plan—doubled. State and local governments will get $350 billion, though many have more revenue than before the pandemic.
Schools that stayed closed (and laid off employees) will be rewarded with $130 billion to open—with no guarantees that they will. This is a payoff to unions that have refused to open schools even as most private schools have. Public and historically black colleges will get $35 billion, but nada for private schools.
One of his worst ideas is to raise the $300 weekly federal unemployment benefits enhancement to $400 and extend it through September. Half of unemployed Americans will earn more with the extra $400 than by working, which may help explain why benefit claims this week surged after the $300 fillip was reinstated. Claims plunged last fall after the $300 lapsed. Many businesses say they can't pay enough to lure employees back until the payments end.
Mr. Biden also wants to raise the minimum wage to a uniform $15 an hour nationwide. It's hard to imagine a more destructive policy for small businesses struggling to survive, especially in rural areas and mid-America states with lower wage levels than New York City. The strange economic logic seems to be to make it more expensive for businesses to rehire workers while giving those workers less incentive to return to work.
He also prescribes another round of transfer payments including $1,400 checks for most Americans, most of whom have jobs. This will cost some $400 billion or so with almost no larger economic benefit.
He also wants to expand the ....
To read this article in The Wall Street Journal in its entirety, click here.