CNN Business: This Billionaire Says the US Stock Market is Overlooking the Rapidly Growing National Debt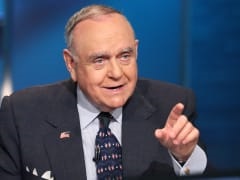 Article by Clare Duffy in CNN Business
As the US stock market has made a dramatic recovery from March lows, it has felt at times as if the market and the economy are no longer on speaking terms.
While the stock market has been volatile in recent months, it has trended strongly upward and the Nasdaq has hit record highs. Meanwhile, the United States continues to experience surging coronavirus cases, bankruptcies and store closures, elevated unemployment figures and other signals of an economy in trouble.
Hedge fund billionaire Leon Cooperman said he thinks the market is overvalued, and that it is overlooking "a number of things."
Chiefly, he said, the market "is not recognizing the risks that we face: the China relationship deteriorating, the tremendous increase in debt in the system, certainly from the election, the virus issues," Cooperman told CNN's Christine Romans in an interview that aired on "Early Start" Monday.
Risks for the market
The nation's rapidly growing national debt is among Cooperman's biggest concerns.
Instead of whittling down the federal deficit when the economy was strong, Trump directed the federal government pile on even more debt to pay for massive tax cuts and spending surged, which meant the country entered the coronavirus crisis in rough financial shape. Now, the national debt is exploding as Washington scrambles to rescue the US economy from the shock of the pandemic.
"I am focused on something the market is not focusing on at the present time and that is ...
To read this article in CNN Business website in its entirety, click here.