Business Insider: The Global Market Bloodbath is Raging on, and There is Nowhere to Hide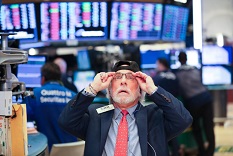 Article by Will Martin in Business Insider
Stock markets around the world were taking a hammering Thursday as rising fears about global economic growth and ongoing trade tensions continued to rattle investor confidence. US stock futures were in the red, signaling that Wednesday's sell-off would continue.
Concerns in Asia are exacerbated by investor doubts that fresh stimulus from China's central bank will help prevent US President Trump's trade war from triggering an economic slowdown.
Warnings about global growth from the International Monetary Fund contributed to the concerns, as did rising interest rates.
Trump on Wednesday weighed in on the sell-off by blaming the Federal Reserve, calling the US central bank's interest-rate policy "crazy."
"All eyes are likely to be on the US as investors look to judge if this is a 'healthy correction' or something more," the online stockbroker AJ Bell said in an emailed report.
China's most significant mainland index, the Shanghai Composite, dropped more than 5% during Thursday's trading session, the second time in just four days it had lost 4% or more of its value. Elsewhere in Asia, Hong Kong's Hang Seng lost 3.3%, while Japan's benchmark Nikkei 225 was down just shy of 4%.
Those moves followed a bloodbath in the US. On Wednesday, the Dow Jones industrial average lost more than 800 points during the session, its third-biggest single-day point fall in history. Things spread to Asia overnight, with all major indexes on the continent witnessing major drops.
"A crazy day in the markets yesterday looks set to continue with further selling expected in equities today," Neil Wilson, the chief analyst at Markets.com, said in an email Thursday morning. "Clearly we've entered a severe bout of selling that may well have further to go."
To read this article in business Insider, click here