Bloomberg News: BofA Survey Shows Investors Fleeing Equities en Masse on Fear of Recession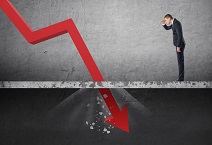 Article by Sagarika Jaisinghani in Bloomberg News
Investors are fleeing equities en masse amid the specter of a recession, with allocations to stocks at record lows and cash exposure at all-time highs, a Bank of America Corp. survey showed.
A historically high 52% of respondents said they are underweight equities, while 62% are overweight cash, according to the bank's global fund manager survey, which included 212 participants with $616 billion under management in the week through Sept. 8.
The survey showed the market's grim mood even before Tuesday's report on US inflation, which ran hotter than estimates in August and cemented ........
To read this article in Bloomberg News in its entirety, click here.