CNBC: The Bond Market is Flashing Its Biggest Recession Sign Since Before The Financial Crisis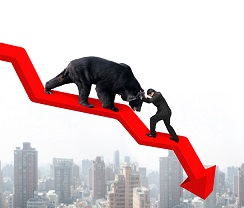 Article by Jeff Cox in CNBC financial
Federal Reserve Chairman Jerome Powell's assertion this week that the U.S. economy remains strong is facing a stern test from the bond market.
In fact, government fixed income yields are delivering a strong recession indication that hasn't happened since 2007
The spread, or yield curve, between the 3-month and 10-year Treasury notes just broke the longest streak ever of being above 10 basis points, or 0.1 percentage point. The two maturities were last below that level in September 2007, a run of 3,009 trading days, according to Bespoke Investment Group.
The two maturities briefly inverted Friday morning, a near-perfect sign that a recession is coming.
Economists see the yield move as a dark signal for an economy coming off its best year since the recovery began in mid-2009.
"The stock market may not agree with the recessionary message from the Treasury market, but it would be foolish to disregard this bond curve move entirely," wrote David Rosenberg, chief economist and strategist at Gluskin Sheff. "The real yield [compared to inflation] on a 10-year note has collapsed to a 14-month low of 0.56% — it never got his low during any part of the 2008/09 Great Recession, for some perspective."
To read this article in its entirety in CNBC financial, click here.