CNBC: Gold is Setting Up for a Breakout Years in the Making, Technical Analyst Says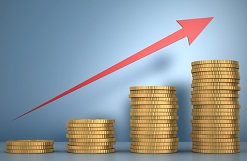 Article by Tyler Bailey in CNBC
Trade war uncertainties and expectations of a Federal Reserve rate cut has sent gold soaring this month.
The precious metal is up more than 3 percent since the start of June, hitting its highest level in more than a year on Friday. According to Carter Worth of Cornerstone Macro, the charts are setting up for a breakout years in the making.
"It keeps approaching this $1,350 plus-minus level, and then backs away. But what's increasingly encouraging about it is the way we've gotten here, which is to say, it's repeatedly hitting a higher low, all which would suggest that the tension ultimately is to be resolved."
As for what a resolution could look like for gold, Worth is feeling bullish — really bullish — because of the technical implications of that 1,350 level.
"What's important is that we are making new relative highs right now. Gold has bounced perfectly off this relative line over, and over, and over, and over, and it did it again."
"We just moved above the recent relative high, we made new relative all-time highs this week. I think that is a very important development. I like gold, and I think you have to have some form of it, in some fashion, in your portfolio."
To read this article and view the related charts in CNBC in their entirety, click here.