Fox Business: US Budget Deficit Swells to Record $2.81 Trillion in 10 Months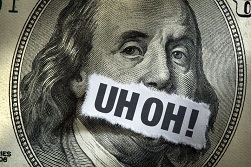 Article by Megan Henney in Fox Business
The U.S. budget deficit climbed to a record $2.81 trillion in the first 10 months of the fiscal year, a record high, the Treasury Department said Wednesday.
In July, the gap between what the government spent and what it collected hit $62.9 billion, well below the $864 billion recorded in June.
Federal spending rose to more than $626 billion last month but was offset by the $563 billion the government collected in tax revenue after it extended the tax filing deadline from April 15 to July 15. That extension allowed Americans to hold onto their cash longer as they dealt with the fallout from the virus and injected about $300 billion of liquidity into the economy.
Nearly half of the outlays in July stemmed from the Paycheck Protection Program, the $670 billion rescue fund designed to keep small businesses afloat and avert mass layoffs. It accounted for about $26 billion of the government's spending.
In total, the U.S. government has spent more than $5.6 trillion so far this year.
The deficit for fiscal 2020 is projected to hit $3.7 trillion, a record, according to a projection from the Congressional Budget Office. The current record for a fiscal year deficit is $1.41 trillion, set in 2009.
So far, Congress has passed three massive stimulus packages totaling ...
To read this article in Fox Business website in its entirety, click here.