Yahoo Finance: Warren Buffett's Favorite Stock Market Indicator Still Screams Sell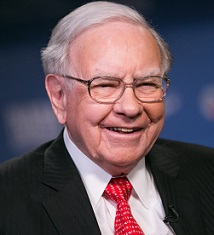 Article by Brian Sozzi in Yahoo Finance
Stocks have had a tough go of it these past two weeks as rising 10-year yields weigh on market sentiment. Despite the pullback, one closely watched indicator suggests the broader market remains too pricey.
The "Buffett Indicator" as it's called in Wall Street circles — which takes the Wilshire 5000 Index (viewed as the total stock market) and divides it by the annual U.S. GDP — is still hovering around a record high. In crunching the numbers, the Buffett Indicator stands at about 187.5% — up sharply from 175% or so when applying third quarter GDP data per GuruFocus.
The current levels are down from the record high of 195.7% hit just a few weeks ago. Even still, the figure remains well above the 159.2% seen just before the dot-com bubble.
"The stock market is significantly overvalued according to the Buffett Indicator," said researchers at GuruFocus. "Based on the historical ratio of total market cap over GDP (currently at 187.5%), it is likely to return -2.5% a year from this level of valuation, including dividends."
The Buffett Indicator rose to fame after a 2001 Fortune Magazine article written by Buffett and long-time Fortune writer and Buffett insider Carol Loomis.
"The ratio has certain limitations in telling you what you need to know. Still, it is probably the best single measure of where valuations stand at any given moment," explained Buffett in the article.
It really shouldn't be a surprise to see the indicator as inflated as it is today.
Federal Reserve liquidity continues to run rampant and has .....
To read this article in yahoo Finance in its entirety, click here.