Market Watch: When 'idjits' Mock Warren Buffett, the Stock Market Could Be in Trouble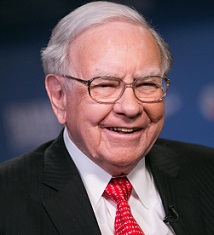 Article by Shawn Langlois in Market Watch
Warren Buffett's Berkshire Hathaway earlier this month posted a quarterly profit that topped Wall Street targets, but analysts weren't all that focused on the bottom line. Rather, it was the company's record cash balance of $128.2 billion that turned heads.
The question rained down: Why? With the bull market going strong and Berkshire shares underperforming, analysts and investors alike questioned Buffett's lack of putting that money to work.
In fact, earlier this year, one longtime shareholder decided to dump his Berkshire position because, as he put it, "thumb-sucking hasn't cut the Heinz mustard during the Great Bull Market."
But Gary Evans of the Global Macro Monitor blog says the fact that Buffett is getting criticized for his cautious footing should raise yellow flags.
"When 'market geniuses,' who retrofit their analysis to price action, start trashing Buffett for lagging in this silly Tweet-driven, Fed induced MoMo [or momentum-driven] market it is usually a signal a big bubble is about to burst," Evans wrote in a recent post. "Stock prices are very high and, clearly, Warren Buffett is not a practitioner of the 'greater fool theory,' which have made many a trader short-term rich and long-term poor."
Evans added that, at this point, his long-term view is with Buffett.
"The idjits have the gall to mock this man for holding so much cash," he wrote. "Nothing new, we have seen this picture before in the bubbles of Christmas past. Have they not heard or understand his simple investment philosophy that his made him billions?"
That oft-quoted investment philosophy: "Be fearful when others are greedy, be greedy when others are fearful."
To read this article in Market Watch in its entirety, click here.