Economic Times: Bullion Crash a Bull Market Blip, Buy on Dips, Says Jim Rogers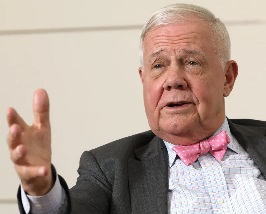 Article in Economic Times
Veteran investor Jim Rogers said he would buy more silver than gold right now, as it is cheaper on a historical basis.
Rogers said he owns both gold and silver but would like to add more gold when the time comes. Silver, he says, still is down 50 percent from its all-time high and, thus, looks a better bet.
Nonetheless, Rogers sees both the bullion counters ' going up a lot over the next few years, as "never ever in history has the world seen such a staggering debt burden that lies ahead in 2021, 2022 and the years ahead," he said.
His comments came on a day when international gold prices fell to a near three-week low of $1,872.19. Silver prices in the international market also took a hit, falling to $24.11 per ounce.
"A 10-15 percent decline should not be a cause of concern in a bull market," Rogers said in an interview with ET NOW. He said he would buy gold and silver on dips.
"Europeans say they will print as much as they have to. You know what is happening in the US. Everyone is printing money and that has always in our history led to people seeking protection in real assets. This is not an opinion. This is a simple historical fact," he said.
"Gold will make new highs, but so will silver," he said, adding that the two bullion counters could 'go up a lot ' over the next few years.
Rogers said the dollar which was strengthening for the last few months is seeing a correction. "The US dollar is a terribly flawed currency. America is the worst indebted country in the history of the world and it is getting worse. In Washington, policy makers have gone nuts, but everywhere else too, as seen with BoJ policy making. They all are doing the wrong thing," he said.
Rogers said he likes to buy things that are ...
To read this article in Economic Times in its entirety, click here.