CNBC: This Rebound is a Bump in the Road on the Way Down, Says Strategist, Predicting Lehman-like Drop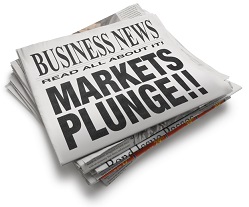 Article by Yun Li in CNBC financial
The S&P 500 pulled off its most dramatic intraday turnaround this year on Tuesday, extending the rebound from its worst day of 2019, but investors shouldn't be too optimistic about the comeback, Nomura warns.
The rebound, supported by dip buying and technical positioning by speculative traders, is bound to be a short-lived one as market sentiment continues to deteriorate, according to Nomura macro and quant strategist Masanari Takada. He garnered much attention this week for his call for a "Lehman-like" sell-off as soon as late August.
"We see the rebound in US stocks as a mere technical rally that looks like no more than a bump in the road on the way down," Takada said in a note on Thursday. "We think the market is likely to resist further downside thanks to a combination of bargain hunting by fundamentals-oriented investors and contrarian buying by ultra-short-term traders through perhaps 15 August."
Hedge funds and other players are set to flee the market once when their algorithms are triggered, the strategist said, adding their major trigger line is at around 2,960 for the S&P 500. The index closed Wednesday at 2,883.98, erasing a loss of almost 2% to eke out a gain.
"We would expect trend-followers that are currently sitting on unrealized losses to start exiting their long positions in equities at a quickening pace," Takada said. "The present market rebound could well turn out to be a mere technical rally if CTAs treat it as an opportunity to sell."
To read this article in CNBC financial website in its entirety, click here.