Commodity Trade Mantra: Buy Gold and Silver in Bull Market Dips - A Rare Significant Opportunity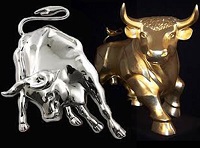 Article by Rich Checkan in Commodity Trade Mantra
Back in July, I wrote about gold's long-anticipated breakout. Gold bugs everywhere rejoiced! And I suggested the best was yet to come.
After being stuck in a narrow trading range from $1,250 to $1,350 per ounce for a few years, gold had cleared technical resistance at $1,350. And it confirmed the move with a breach of $1,400 immediately after.
Within a month, gold prices were near $1,550 per ounce! So… what happened next?
From that point until now, gold has pulled back to around $1,470 per ounce twice. After the first retreat, gold got some wind in its sails and traded back above $1,500 per ounce. And it hovered around that level until the last week or so.
Now we're testing gold's resolve once again just below $1,460 per ounce. So it's quite natural for gold buyers to begin to question whether they made a mistake. Of course, they didn't.
But dealing with money is emotional. And it's difficult for even the most calm, cool and collected investors to keep their emotions in check when prices drop.
Yet, as difficult as it may be, you must stay the course if you want to be rewarded for making a sound investment.
There have been two major bull markets in gold since former President Nixon closed the "Gold Window" in August of 1971: one from 1971 to 1980, and one from 2001 to 2011.
Both lasted for roughly a decade. And from start to finish, both rewarded investors handily for their patience.
In the last bull market, that reward was 650% appreciation… or an average annual return of 65% per year!
That said, during both of the previous bull markets, investor patience was severely tested.
To read this article in Commodity Trade Mantra in its entirety and view the related chart, click here.