Market Watch: The U.S. Market's CAPE is Now the World's Highest and This Gives Stock Investors Little Cover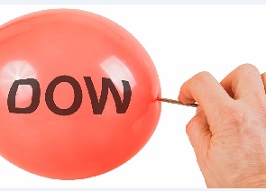 Article by Mark Hulbert in Market Watch
How concerned should you be that the CAPE for the U.S. stock market is the highest in the world? I am referring to the cyclically adjusted price/earnings ratio (CAPE) made famous by Yale University finance professor (and Nobel laureate) Robert Shiller. It is conceptually similar to the typical P/E ratio, except that instead of using trailing 12-month earnings as the denominator the CAPE uses average inflation-adjusted earnings over the trailing 10 years.
The CAPE currently stands at 36.6 for the S&P 500, according to Shiller's latest calculations. That's higher than 98% of monthly readings since 1881, and more than double the 140-year average, suggesting an extremely overvalued market.
Let there be no doubt that the U.S. market's CAPE is highest in the world right now. According to calculations from Barclays Bank, the average CAPE for 25 developed nations' stock markets currently is 21.4, just over half of the S&P 500's 36.6 reading.
To appreciate how significant this difference is, I analyzed how countries' stock markets performed during the bursting of the internet bubble two decades ago as a function of their CAPE at the beginning. Specifically, I was interested whether the countries with the highest CAPE at the top of the internet bubble lost the most in the ensuing bear market.
To be sure, the CAPE hasn't worked this well in every bear market. For example, there appears to have been no correlation between CAPE in February 2020 and the magnitude of losses that various countries' stock markets incurred during the waterfall decline through the March 2020 lows. But one can at least plausibly argue that that decline was caused by the severity of the pandemic lockdowns and limited by the size of the subsequent fiscal and monetary stimulus—neither of which is correlated with whether the stock market was overvalued.
This suggests that CAPE will be especially helpful in protecting you against bear markets caused by overvaluation, as happened after the internet bubble burst. Such an event could happen any time, judging by .....
To read this article in Market Watch in full and view the relating chart, click here.