Small Cap: Central Banks Buy More Gold, China Leading the Way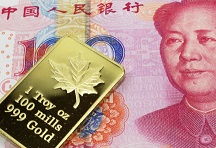 Article by Robin Bromby in Small Cap
While the gold price falters after a short period of dramatic weakness, it seems the central banks have a different view of the yellow metal's value. The World Gold Council (WGC) reports that, in August, central banks bought 77 tons, 38% more than in July.
China, Poland and Turkey headed the list of buyers. Just as importantly for the metal's outlook, no significant gold sales were made that month, unlike the situation in the middle of the year.
WGC expects strong fourth quarter
In the past three months gold purchases totaled ......