The Street: Central Banks Aren't Done Buying Gold Yet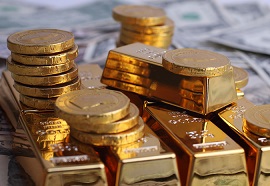 Article in The Street
Central banks around the world have their hands full dealing with the biggest global economic downturn since the 1930's Great Depression; however, according to the latest research from the World Gold Council (WGC), gold still has an important role to play in a central bank's reserves.
The World Gold Council recently released the results of its third annual central bank gold survey and even after two years of record buying, Shaokai Fan, head of relationships with Central Banks at the WGC, said in an interview with Kitco News that the survey shows that central banks will remain net buyers of the precious metal.
Fan noted that the latest results show about 20% of central banks expect to buy gold this year, that is up from about 8% from last year's survey.
"Our view is that central banks overall will still be net buyers of gold, probably not the same total quantity of gold as we've seen in previous years," Fan said. "One thing the survey points to potentially is that we'll see more new central banks entering the gold market."
Fan added that the COVID-19 pandemic is having an impact on gold's role as a reserve currency. He said that among the top answers as to why a central bank is buying gold, 79% of respondents noted gold's performance during a crisis.
Gold's liquidity and lack of default risk were also important factors central banks were attracted to this year, Fan said. However, Fan said that the biggest surprise factor for him in this year's survey was that negative interest rates were the biggest factor for investing in gold.
Fan said that 88% of survey respondents said that negative interest rates was a relevant factor in their reserve holdings.
"A major part of the international financial system that continues to see gold as an important asset class," he said.
"There is increasing worry about weaponization of the dollar, politicization of the dollar. Therefore they'll be looking at how to balance their reserve assets in light of ...
To read this article in The Street in its entirety, click here.