Bloomberg News: China Is on a Big Gold-Buying Spree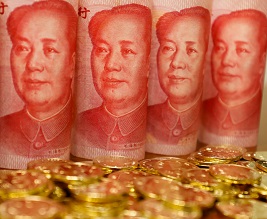 Article by Ranjeetha Pakiam in Bloomberg News
China's on a bullion-buying spree as Asia's top economy expanded its gold reserves for a fourth straight month, adding to investors' optimism that central banks from around the world will press on with a drive to build up holdings. Prices advanced back toward $1,300 an ounce.
The People's Bank of China raised reserves to 60.62 million ounces in March from 60.26 million a month earlier, according to data on its website on Sunday. In tonnage terms, last month's inflow was 11.2 tons, following the addition of 9.95 tons in February, 11.8 tons in January and 9.95 tons in December.
Governments worldwide added 651.5 tons of bullion in 2018, the second-highest total on record, according to the World Gold Council. Russia has quadrupled its reserves within the span of a decade amid President Vladimir Putin's quest to break the country's reliance on the dollar, and data from the central bank show holdings rose 1 million ounces in February, the most since November.
To read this article in Bloomberg Newxs in its entirety, click here.