Markets Insider: China is Leading a 'Voracious' Gold-buying Spree as Central Banks Try to Shrink Dollar Reserves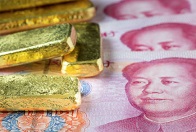 Article by Aruni Soni in Markets Insider
Central banks around the world are on a gold-buying spree, and China is outpacing them all.
The bullion binge comes as part of a broad effort this year of countries trying to diversify reserves away from the dollar, as well as attempts by some nations to de-dollarize trade relationships by conducting transactions in local currencies.
"With central bank demand resuming its voracious pace after a slower Q2, we expect the annual total to approach ......