Forbes: Silver Shines, Says Citi, Tipping A 60% Price Rise - For Starters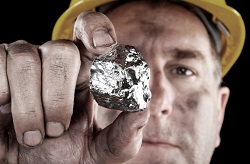 Article by Tim Treadgold in Forbes
Citi, which has a well-connected resources research team, has put its neck on the silver block in an advisory note with a tip that the price of the metal will rise to $40 an ounce over the next 12-months.
Silver is currently trading around $24.80 an ounce on the London bullion market, having already risen by 38% from $18/oz since the start of the year.
Citi's case for silver is based on growing demand from investors who see silver as a cheap entry point into the world of precious metals dominated by gold, with a bonus of strong industrial demand.
But the bank doesn't stop at a 605% silver rally. It also argues that there is a technical case for silver doubling $50/oz, and potentially rising four-fold to $100/oz.
"Silver is highly-leveraged to a global (economic) recovery, with relatively limited downside," Citi said, before adding that "it's not for the faint hearted".
The bank said its forecast of a rise to $40/oz over the next 12-months is based on a combination of sustained strength in investor demand and a recovery in industrial consumption during 2021.
"We expect that investor demand for precious metals exposure will remain high during 2021 as pressure on governments to devalue currencies, concerns about vaccine efficacy and take-up rates and questions over equity and bond valuations and rising global debt remain in most scenarios," Citi said.
The bank said its foreign exchange (FX) technical team is very bullish on silver with "$50/oz a very realistic target and $100/oz possible."
The bank said silver was more leveraged than gold to a sharp increase in ...
To read this article in Forbes in its entirety, click here.