Market Watch: Citi Says Gold Prices May Top $2,000 an Ounce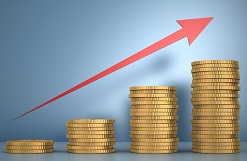 Article by Steve Goldstein in Wall Street Journal Market Watch
Analysts at Citi say gold prices will "trade stronger for longer" and see them possibly topping $2,000 an ounce and posting new highs in the next year or two.
"We now expect spot gold prices to trade stronger for longer, possibly breaching $2,000/oz and posting new cyclical highs at some point in the next year or two," the analysts said in a note published Tuesday.
"From a birds-eye view, low(er) for longer nominal and real interest rates, escalating global recession risks—exacerbated by U.S.-China trade tensions—heightened geopolitical rifts amid rich equity and credit market valuations, coupled with strong central bank and investor buying activity, are all combining to buttress a bullish gold market environment."
Gold futures on Tuesday fell $9.20 to $1,501.90 an ounce. But futures have climbed about 23% over the last 12 months.
To read this article in Market Watch in its entirety, click here.