CNBC: Corporations Were the Biggest Buyers of Stock During the Bull Market, But Now They are Selling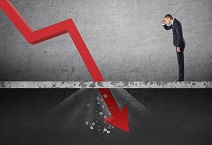 Article by Kate Rooney in CNBC financial
Corporations have been the biggest buyers of stock during the bull market. But they're slowing down, which could be a troubling indicator.
Typically, the public is considered the "crowd" in stock markets, or put another way, "dumb money." Retail investors tend to buy the most at the top and sell the least at the bottom.
That surge in buybacks is showing signs of weakness though — an indicator that companies are less optimistic about the future. According to Larry McDonald, editor of The Bear Traps Report, a sharp slowdown in capital expenditures means companies are also going to buy fewer of their own shares.The latest quarterly capital expenditures for the S&P 500 came in at the lowest since the fourth quarter of 2017, which is "foreshadowing" of a decline in stock buybacks.
"I'm confident that capital markets are going to shut down meaningfully for an extended period," McDonald said.
To read this article in CNBC financial website in its entirety, click here.