Commodity Trade Mantra: Rather than Fixing, We are Compounding Yesterday Mistakes, Buy Gold and Silver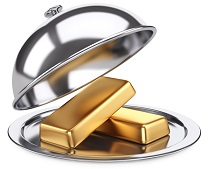 Article by Greg Hunter in Commodity Trade Mantra
Unemployment is near 3% and President Trump is calling for rate cuts and quantitative easing. Is the economy doing well or getting ready to tank?
Financial writer John Rubino says, "We went from being at all-time highs to down 20% in sort of a flash crash in two months towards the end of last year. That told the Fed and the other central banks that they can never tighten again.
The stock market went right back up to record levels. The end part of this story is how good all this is for gold.
The next thing from the Fed will be a rate cut, and it will increase and not decrease its balance sheet. We are going to go preemptively to monetary easing, and that's really new. This is very, very new. You normally don't do this. You wait until you see a bear market and a slowdown in the economy that gets people laid off before you start aggressively easing.
To read this article in Commodity Trade Mantra in its entirety, click here.