Business Insider: Billionaire Investor Leon Cooperman Predicts US Stocks Will Plunge 40% in Total as the Economy Crashes into a Recession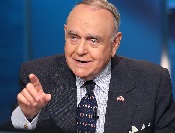 Article by Harry Robertson in Business Insider
US stocks have a long way left to fall, according to the hedge-fund veteran Leon Cooperman, who has predicted the economy will tumble into a recession in 2023.
Cooperman told CNBC Tuesday he thought the S&P 500 would suffer a total drop of 40% as a recession battered corporate profits. He said equities were unlikely to head back into a bull market anytime soon.
Investors have dumped stocks in 2022 as the Federal Reserve has embarked on what is likely to be one of the fastest interest-rate-hiking cycles in its history in an effort to tame rampant inflation.
The S&P 500, the US benchmark stock index, had dropped 21% this year as of Monday's close. That's taken it from a peak of just under 4,800 at the start of January to 3,761 by close of play Monday.
Cooperman told CNBC he thought the S&P 500 would fall 40% from its January peak in total. He said it was likely to fall to 3,000 before it started to recover — 20% below Monday's closing level.
The investor predicted the US would fall into a recession next year, either as a result of surging oil prices or because of the Fed's interest-rate hikes.
"My basic viewpoint is the 4,800 of the S&P is likely to be the high for quite some time," Cooperman said on CNBC's "Squawk Box." "I think we're going to go through a prolonged period of low returns as we try to right the ship."
Cooperman founded the hedge fund Omega Advisors, which he now runs as a family office. Forbes estimates he has a net worth of $2.5 billion.
Explaining his prediction that stocks would drop further, Cooperman said corporate profits — a vital ingredient in stock prices — typically fell about 20% during recessions.
Cooperman said a lot of the speculative froth ........
To read this article in Business Insider in its entirety, click here.