Money & Markets - Peter Schiff: The Economy Is a Bubble, Coronavirus Is the Pin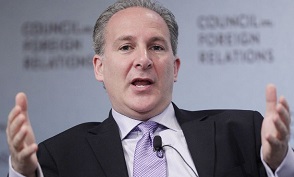 Article by Shaun Cox in Money & Markets
Euro Pacific Capital CEO Peter Schiff said in an interview this week "Boom Bust" show that soon the Federal Reserve will cut interest rates to zero to combat a slowdown due to the coronavirus outbreak.
In fact, the bond market, which saw the yield on the 10-year Treasury fall to an all-time low 1.32% yield and the 30-year Treasury dip to 1.798%, is signaling the future rate cuts now, Schiff said.
"Whether they commit to moving to zero or not, that's exactly where they're going. And in fact, the bond market is telegraphing right now that we're going to have several more rate cuts I think between now and the end of the year, and I think the bond market is right," Schiff said. "But it's not that this is the appropriate policy — the Fed should not be cutting interest rates, but that's what they're going to do because that's the only thing they can do.
"But it's not going to cure the coronavirus or the economy. It's simply going to make the U.S. economy sicker."
The CME FedWatch Tool projects a 67% chance the Fed will cut interest rates at the April 29 meeting.
"Look, the U.S. economy, for example, is a giant bubble and maybe the coronavirus is going to be the pin. I have no idea, but if it wasn't this, it was going to be something else. But there are some much deeper problems than the coronavirus: The markets in general are very overvalued, you have a lot of leverage in the system," he explained.
Finally, Schiff and the hosts discussed the strength of the U.S. dollar and whether or not other countries are devaluing their currencies.
"I don't think other central banks are deliberately weakening their currencies. They're pursuing the same type of inflationary monetary policies that we are, but what's happening is traders — speculators — are buying into the dollar because they falsely believe it's a safe haven. It's not. They should be buying gold and of course other people are," he explained. "You're seeing prices for gold where gold has never traded at. In the U.S. we're at a seven-year high but we're getting close to an all-time high in dollars too.
To read this article in Money & Markets in its entirety, click here.