Market Watch: Gold Bounces Higher as Stocks React to Spread of Coronavirus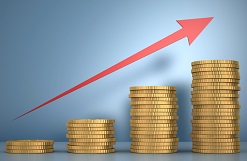 Article by Mark DeCambre in The Wall Street Journal Market Watch
Gold futures were headed higher on Thursday, supported by weakness stocks and a slide in government bond yields due to worries about the COVID-19 epidemic.
Bullion is attracting haven bids as California declared a state of emergency, and more cases of the epidemic were cropping up globally, including in Australia and South Korea, making containment of the disease increasingly challenging.
"Gold looks like one of the most attractive assets in this global environment, With US rates likely heading towards the zero lower bound.," wrote Stephen Innes, chief market strategist at AxiCorp, in a Thursday research note.
"This should mean that both retail and institutional investors, portfolio allocations in gold will rise exponentially," he said.
U.S. government bond yields remain mostly under pressure, with the 10-year Treasury holding near a record nadir below 1% and the Dow Jones Industrial Average and the S&P 500 index set to give back some of Wednesday's sizable gains.
To read this article in Market Watch in its entirety, click here.