CNBC: The Fed's Corporate Bond Buying is Stoking Bubble Fears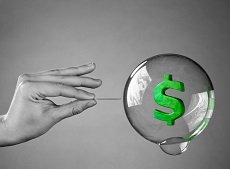 Article by Jeff Cox in CNBC financial
The Federal Reserve's move into the next phase of its corporate bond buying is generating renewed concerns over potential asset bubbles.
In the latest leg of its effort to keep markets functioning, the central bank said last week it will expand its purchases of exchange-traded funds into individual issuance of company debt.
While the initial announcement of the program provided a major lift to Wall Street, there now are worries that the risk-on sentiment could be getting carried away.
"The Fed's shock-and-awe campaign worked amazingly well," Yardeni Research founder Ed Yardeni said in his daily market note Monday. "This raises the question of whether Fed really needs to do much more."
Indeed, the mere pronouncement on March 23 that the Fed would establish two credit facilities – one for newly issued bonds and leveraged loans and another for those already on the market and tracked through ETFs – helped assuage a market that had locked up amid cononavirus fears.
The worries are that the market has now gone too far as interest rates linger around record lows and issuers count on perpetual Fed support should buyer appetite wane.
"The goal was to restore liquidity to the credit markets," Yardeni said. "They are clearly functioning well again. If the Fed persists in flooding the markets with liquidity, the risk is that the Fed will create the greatest financial bubble of all times."
At the same time, the S&P 500 is trading at 21.9 times expected earnings over the next 12 months. That's the highest in ...
To read this article in CNBC financial in its entirety, click here.